Invest in Open Infrastructure (IOI) works to increase the investment in and adoption of open infrastructure to further equitable access to and participation in research. We do this by providing actionable, evidence-based guidance and tools to institutions and funders of open infrastructure, and piloting funding mechanisms to catalyse investment and diversify funding sources for open infrastructure.
Our approach and strategy
Our current approach focuses on three core programmes:
Data Room: tools for decision makers
Evidence-based tools and products to support decision makers in adopting, developing, and investing in open infrastructure, including actionable reports, dashboards, and our new tool that enables users to discover and evaluate open infrastructure services. Learn more about IOI's NSF-funded investigation into "reasonable costs" for public access to US federally funded research and scientific data.

Funding Pilots: catalysing investment
Research-driven funding pilots to diversify the sources and mechanisms for funding open infrastructure and ensure a healthy, resilient, sustainable future for research and scholarship. Learn more about our recent Open Infrastructure Fund and the new IOI Fund.

Strategic Support: tailored application of research
Targeted engagements with infrastructure providers, funders, and institutions to implement IOI research recommendations, further adoption of open infrastructure, and build the resilience and sustainability of the knowledge sector. Learn more about IOI's engagements with the Catalyst Project and with arXiv.
Across these programmes, we focus on infrastructure that furthers open, immediate access to data and research publications, in line with UNESCO's Open Science Declaration, the Nelson memo, G7 Communique, and EU Council conclusions.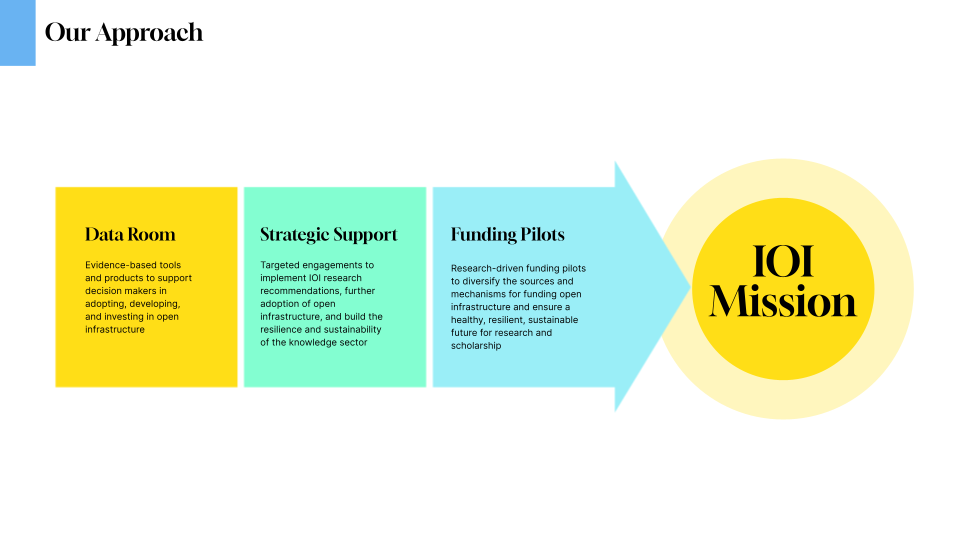 The three core programmes build on our current strategic plan, which outlines our goals and objectives for FY2021-2024. Please see our brochure below for an introduction to our work. (Last updated: June 8, 2023.)