October 31 - November 4, 2022 | Online
Invest in Open Infrastructure (IOI) is hosting its first Funders Summit, happening October 31-November 4, 2022. This invite-only event will occur online, and is open to those involved in the financing and resourcing of open infrastructure.
Over the course of the week, participants will help shape the pilot of a collective funding mechanism for open infrastructure. You will:
Discuss funding trends in open infrastructure;
Explore collective funding mechanisms and their feasibilities; and
Work together with other participants to shape a first iteration of a collective funding mechanism for open infrastructure.
Below, we share the Summit programme.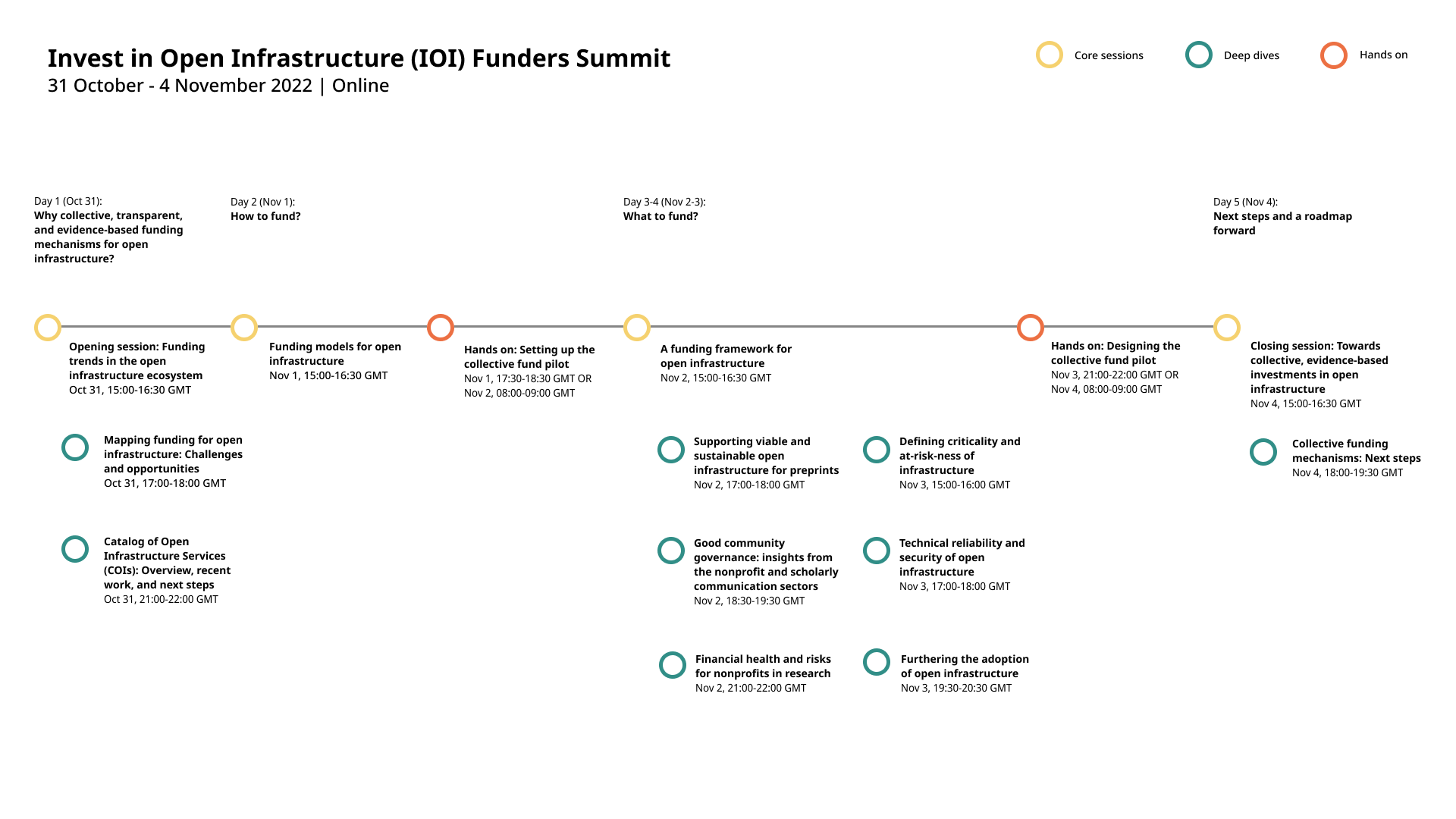 You can also find more details about the programme in this public Summit calendar.
The programme is designed for us to work together, through reflection and discussions, to shape the pilot for a collective funding mechanism for open infrastructure. IOI will lead in committing $100,000 USD to this pilot. We are seeking additional co-investment and commitment from partners who would like to join us in investing in the open infrastructure necessary for research to thrive. Interested in learning more? Email us at contribute [at] investinopen [dot] org.
If you're interested in joining us, please email contact [at] investinopen [dot] org for an invitation.
Confirmed speakers
Accessibility
To ensure that participants worldwide can follow the Summit's programme, all sessions will be recorded, and we aim to make the recordings available on-demand as soon as each session is finished. We strongly encourage participants to join sessions in real-time where possible, to join the live discussions and connect with other participants.
The primary language of the Summit is English, but all presentations during core sessions will be simultaneously interpreted into Spanish and French.
Summit partners
We are using Cobudget throughout the Summit to facilitate the shaping and co-design of the collective fund pilot, and working with the GreaterThan team to design and facilitate the hands-on sessions around Cobudget.